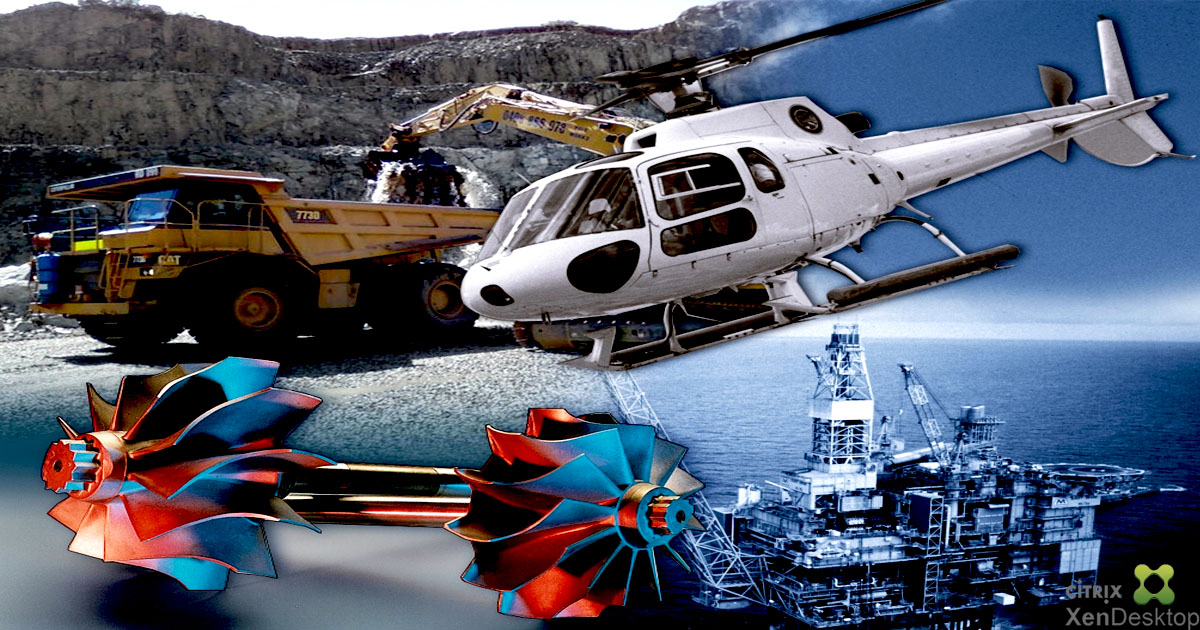 Engineering, manufacturing and designing companies especially with employees working remotely or companies engaging talented designers from different parts of the globe, face the biggest challenge of collaboration, often real-time. Their CAD professionals working from different locations/states/countries need to conform, collaborate and manage the design environments in real-time. Each user needs maximum user experience possible in terms of precision, performance and speed. This must be irrespective of the network, bandwidth or device used or accessing applications on the go from a tablet that must bring the desktop experience.
Citrix XenDesktop comes as an ideal one-stop solution for all such scenarios. Companies can now move the entire CAD workstations to the cloud. Many customers already using vGPU prefer Autodesk Inc. products. This is because of Autodesk Inc's substantial market share and its clear strategy of virtualization that has made the company come up with clear licensing terms and certifying their applications to be used in virtual environments.
In fact, Autodesk has partnered with Citrix (the company is a member of the Citrix Global Alliance Program) to bring greater efficiency, ease and flexibility of use. Using Autodesk designing software on Citrix XenDesktop/XenApp reduces the costs of maintaining expensive workstations and improves performance with seamless access from anywhere.
Citrix-ready popular Autodesk software
Inventor
Professional grade designing and engineering solution for any kind of 3D mechanical designing, simulation, tooling and victualing use. Integration of 2D AutoCAD drawings and 3D data into one digital model is possible along with creating a virtual presentation of its final output from all aspects before it is built physically.
Vault
It is a data management software for engineers and designers to organize, document, track design data and other development processes.
Revit
This is structural/building design software specially built for Building Information Modelling (BIM) and includes features of architectural design, Mechanical, electrical and plumbing (MEP), structural engineering and construction designs.
AutoCAD
Globally used by millions of designers this is a design (including 3D free-forms) and documentation tool suitable for all business sizes across industry sectors. All its varieties like NanoCAD, TurboCAD, ArchiCAD, 3DS MAX are supported by Citrix.
Autodesk applications running on Citrix: why the best?
HDX technology
Citrix technology delivering a "high-definition" design experience to the users. Citrix XenDesktop comes with HDX 3D Pro technologies for improving the performance and delivery of graphics-intensive applications. Designed to optimize the user experience, reduce bandwidth consumption with increased speed, the technology is extremely suitable for any type of high-end graphics, CAD, video or audio streaming and multimedia. At the same time, it excludes the requirement of any special graphics processors and also supports the special designing essentials such as 3D Space Mouse and large displays.
NetScaler
NetScaler appliance helps in load-balanced and secure remote access to all XenDesktop/XenApp applications. By distributing traffic, it accelerates and optimizes traffic flow and visibility features. Users can access data/applications independent of their locations or network (even a Cybercafe is perfect) or the device used with the same high-end output.
SD-WAN
Software-defined wide-area network (SD-WAN) is a networking technology that connects enterprise networks (data centers, branch offices) over extensive geographical areas. This reduces cost, improves user experience, offers seamless audio-video streaming and also simplifies cloud-based management operations.
NVIDIA virtual GPUs
NVIDIA virtual GPUs help the designers collaborate with other team members to access the project-work on the same 3D CAD files/designs independent of their location even over 9,000km distance.
The NVIDIA graphics processor maximizes rendering of complex graphics, the compression codes deliver good application performance even in environments with narrow WAN bandwidth.
Why should you consider Apps4Rent hosted Citrix CAD
Apps4Rent is a Citrix Partner
As a Citrix Partner, Apps4Rent has the hosted Citrix VDI knowledge and you can work with the company's technical experts to guide you and implement your virtual CAD solutions depending on your business objectives and requirements. You can use the dedicated or session-based hosted Citrix desktop- XenDesktop. While in a session-based option the company technicians will take care of application instalment, the dedicated plan will be very useful in case you have graphics intensive applications, as you will be able to install your own applications.
Cost-saving without obligations
Citrix CAD virtualization is expensive.But, with Apps4Rent you can reduce your Citrix XenDesktop cost significantly with the pay-as-you-use model (month-to-month billing). You can easily scale up once your requirement grows. No need to sign any contract. Besides you can add new users whenever you need on your existing plan.
Resilience, ease, security
Apps4Rent does not impose any maximum/minimum user limit. You can access expert assistance any time 24/7 through chat/phone even for small issues. Your data will remain secure in top-tier SSAE16 Type II certified data center in NY, USA.
Long-standing market presence
Having been in the business for 18 years now after serving 10,000 big and small clients worldwide, Apps4Rent understands cloud hosting in-and-out with the best service response time in the industry which includes 24/7*365 help desk/remote support, within 15 minutes call-attendance, online knowledge sharing, infrastructure monitoring, management, updates, maintenance and patching or everything you need.
For further technical discussion, support please feel free to talk to us 1-646-506-9354 any time.