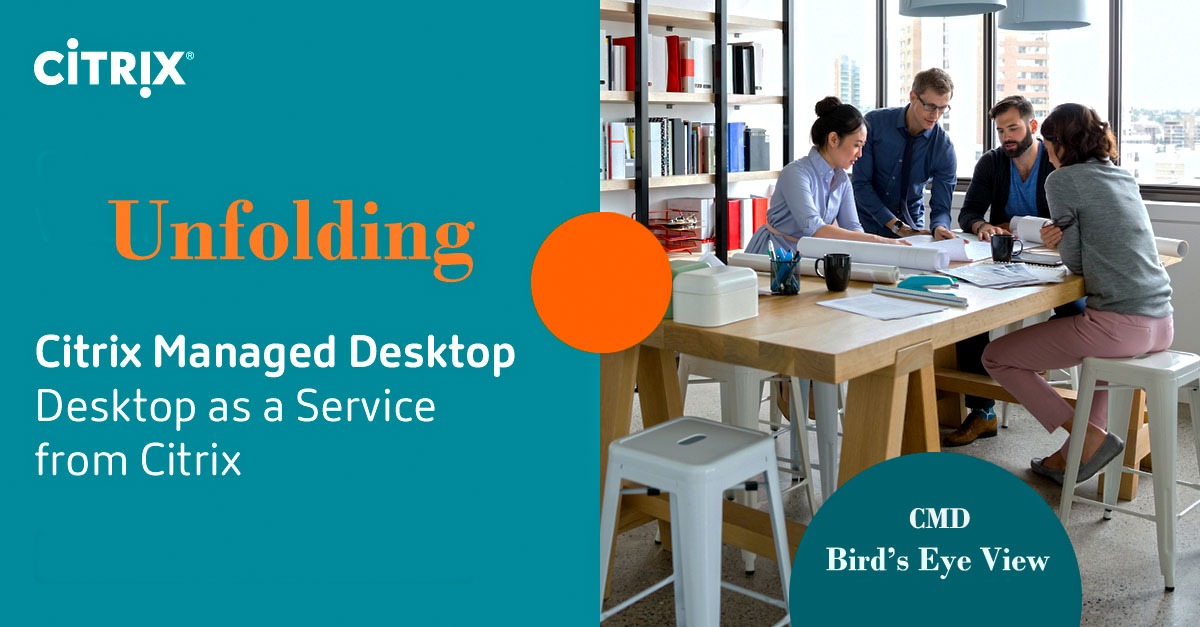 The blog aims to give you a bird's eye view of Citrix Managed Desktops (CMD), its main features and also the best use scenarios.
Citrix Managed Desktops (CMD) is a cloud-based desktop-as-a-service for delivering Windows apps and desktops on Microsoft Azure. It includes management, provisioning and managed capacity for delivering device-independent virtual apps and desktops.
The Citrix Managed Desktops (CMD) Make-Ups
Citrix Managed Desktops (CMD) includes the following…
Management, provisioning for delivering hosted Citrix VDI like Windows Virtual Desktops, and apps on Azure cloud.
Users of the Citrix Workspace app get high-definition user experience.
Managed single-session and multi-session images, simplified image creation and management workflows.
Any place, any-device, remote and secure access harnessing the global presence-points of the Citrix Gateway service.
Latest help desk management and monitoring features.
Offers managed Azure services complete with Azure compute, storage, and networking for delivering virtual desktops.
Citrix Managed Desktops Exclusives
High Performance — The HDX technology helps to bring unmatchable high definition user experience. Users get an immaculate desktop image at each login (way ahead of what a traditional desktop or laptop brings) through non-domain / domain-joined desktops and global anytime/any-device accessibility.
Simplicity re-defined with managed Service – the easiest deliverance of virtual apps and desktops that can be delivered to users on demand by anyone with any level of IT experience. Needs minimal assembly, and a customer gets everything needed.
Easy Connectivity – By way of Azure Virtual Network (VNet), CMD makes it easy to connect to all user-resources like Active Directory, file services and more, in the cloud. The SD-WAN brings the best ever end-user experience for any Windows, SaaS and cloud apps with extended, safe and reliable networks in Azure.
Global Availability – Citrix Managed Desktops are available across the globe- U.S. East, U.S. West, West Europe, and Australia East with the list is to grow.
User Access to CMD
Users/subscribers can access directly through their browser using the Citrix HTML5 client, browse Citrix Workspace url that has been allotted. The Citrix Workspace provides the Citrix products that the admins use to deliver secure access to desktops, apps irrespective of device, network or location. Users start working from their workspace. Another option is to download the Citrix Workspace app on the target device.
Use Case Scenarios
Some of the scenarios, among others where CMD would be the best fit are…
1.Elastic manpower situations
Business undergoing mergers/ acquisition, contractor businesses where workforce keeps changing with short term workers.
2.Special work-circumstances
Where employees work with BYOD, businesses with mobile staff or work from different parts of the globe, call center workforce and branch employees working from different locations.
4.Special call of duty
Engineering sector and Designing companies demanding extremely high-definition user-experience and complex design requirements, businesses using legacy applications, IT sector into software development and testing will get tremendous value out of CMD.
CMD is the name of desktop-as-a-service that brings powerful, flexible virtual desktop/app solutions with speed and simplicity.
Why consider us for your CMD solution?
You can rely on us, safely. Because we are… 1) a Citrix partner 2) An Azure Cloud Service Provider (CSP) 3) Have Citrix Virtual desktop solutions on our infrastructure and 4) much more reasonably priced than you will get elsewhere.
Talk to us right away 1-646-506-9354 any time 24/7 or come for a chat. We would love to hear from you!