What is Windows Virtual Desktop (WVD)?
Windows Virtual Desktop (WVD) is an Azure service that, combined with appropriate licenses, services, and resources, delivers a complete virtualized multi-user Windows 10 (or a single-user Windows 7) experience together with Office 365 ProPlus. WVD includes centralized management and monitoring; system administrators can quickly deploy and manage desktops, apps, and Windows servers in the Azure Cloud.
WVD helps businesses seamlessly scale their virtualization requirements while benefitting from the top-of-the-line security features on Azure along with the cost benefits of its subscription-based model. With WVD, users can enjoy a richer virtualization experience for accessing hosted applications when compared to the existing Windows Server-based Remote Desktop Services (RDS) platform that leverages Microsoft Partner community support for similar solutions.
Session
Based WVD

Dedicated
Bronze WVD

Dedicated
Silver WVD

Dedicated
Gold WVD

Dedicated
Platinum WVD

1 User
Ideal for 1 User
Ideal for 3 User
Ideal for 5 User
Ideal for 15 User
Grid-Powered vCPU
2 vCPU
2 vCPU
8 vCPU
16 vCPU
Fully-Burstable RAM
4 GB RAM
8 GB RAM
16 GB RAM
32 GB RAM
50 GB Space
100 GB Space
100 GB Space
100 GB Space
100 GB Space
$90/Mo.

Buy Now
Learn More
$90/Mo.
+$35/mo./user Buy Now
Learn More
$155/Mo.
+$35/mo./userBuy Now
Learn More
$260/Mo.
+$35/mo./userBuy Now
Learn More
$525/Mo.
+$35/mo./userBuy Now
Learn More
Ideal WVD Use Scenarios
Businesses of varying sizes (10-1000+) with a significant percentage of mobile staff working from different locations would find Azure Windows Virtual Desktop an ideal solution. Here are some scenarios that benefit from WVD.
Security and Regulation Compliance Requirements

Financial Services, Healthcare, and Government sectors with their regulatory policies and rigorous security norms won't have to worry about data privacy, security, and compliance on WVD.

Standardizing Operations

When businesses undergo mergers and acquisitions or have to work with contractor businesses, employees can be provided with WVD for standardizing operations.

Enabling Workforce Flexibility

Employees with BYOD and mobile staff, call center workforce, and branch employees working from different locations can work with a unified solution despite the differences in the devices they might be using to access the organization's resources.

Specialized Workload Cases

Engineering & Designing companies, businesses using legacy applications in the IT sector for software development and testing often require unique solutions for deploying their unique workloads. Azure WVD is the perfect solution for handling such scenarios.

Windows Virtual Desktop Advantages

WVD offers serval advantages over traditional virtualization solutions.
Windows Virtual Desktop Advantages
WVD offers serval advantages over traditional virtualization solutions.
Decreases costs
By moving their desktops and applications to Azure with WVD, businesses can efficiently manage their cost constraints for running virtual desktops with Windows OS such as Windows 10 and 7.
Windows 10 Virtual Desktop reduces costs in the cloud by allowing session-based desktops on Azure Virtual Machines (VMs) which results in improved utilization of costly resources. By simplifying licensing for the use of Windows 10 on WVD environment, and not requiring additional Client Access Licenses (CALs) for access, as a Server OS would require, the Microsoft licensing costs come down.
Companies that prefer Windows 7 on a desktop can continue getting free updates and support for Windows 7 for another three years, which expired in January 2020.
Improves flexibility
Moving Office IT infrastructure to the Cloud simplifies operations for both IT staff and the end-users.
End-users can access their desktops and applications from various devices and browsers. Office 365 applications have now been optimized to work with WVD, and the end-user experience is smoother.
After moving to the Cloud, IT staff do not spend as much time managing physical machines and local networks. All apps, data, and resources can move to the Cloud.
Desktop apps are easier to manage as WVD allows Windows 10 or Windows 7 OS. IT staff can generate persistent and personal desktops from desktop images.
In WVD, the user profiles and apps are stored in separate containers, and this can improve flexibility and scalability.
Superior Office 365 Compatibility
Other advantages of moving to Azure WVD is the availability of a virtually infinite variety of services and resources in the Cloud and better integration with Office 365 products. Office 365 products, themselves on the Microsoft Cloud, will see improved performance on WVD environments. Similarly, there would be improved performance of other applications that require minimum latency to the desktop. For graphics-intensive applications, virtual graphics processing is available.
Persistent and Non-Persistent WVD
Windows Virtual Desktop supports the complete range of experiences including full desktop virtualization and application virtualization, persistent and non-persistent states as well as dedicated and multi-session modes.
Persistent virtual desktop infrastructure (stateful VDI) is a setup in which each user owns a virtual desktop whose settings and customizations are available to the user each time they log in. The consistency of user experience and familiarity with the customizations help users get accustomed to these virtual desktops faster.
On the flipside, persistent VDIs have high storage requirements primarily because of their customizations and more complex image management. With Azure WVD, there are fewer storage constraints than regular persistent VDI solutions. It also simplifies image management with a unified portal.
In the case of non-persistent VDIs, the data and settings on a virtual desktop are erased at the end of the session. Users will have a new image when they begin a session.
The primary advantage of a non-persistent VDI is that it requires much less space and is more easily managed. The ephemeral nature of the non-persistent VDI makes it an ideal solution for tasks that require more security.
With the inclusion of FSLogix technology, working on non-persistent WVD is nearly as user-friendly as a persistent solution with the ability to dynamically attach user-profiles to computing environments.
Windows Virtual Desktop Implementation Requirements
While Azure Cloud takes away the headaches of dealing with physical machines, cabling, and network equipment; deploying Azure WVD requires at least mid-level system administration and networking skills, and familiarity with Azure services and resources.
Remember, when your resources are in the Cloud, they need to be managed in a manner that is different from on-premises resources. Unless you have such resources in-house, it is advisable to find a dependable Azure Cloud Service Provider to work with you.
Azure Windows Virtual Desktop Components
When you are buying an Azure WVD subscription from Apps4Rent, here's what you get as a part of the plan.
Subscription to Windows 10 Enterprise for each WVD user
Azure Active Directory (AAD) tenant
Active Directory Domain Services (AD DS) deployment
Azure subscription
File Server
Subscription to Windows 10 Enterprise

Windows Virtual Desktop Management Service and Windows 10 desktop OS are licensed via a subscription to Windows 10 Enterprise. Unlike a standalone solution when you would need an Office 365 or Windows 10 Enterprise license, you get a bundled solution with Apps4Rent. You can use the same per-user subscription license that comes with your plan.

Azure Active Directory (AAD) tenant

For deploying and managing Windows Virtual Desktop and assigning to users to desktops/apps, an Azure Active Directory (AAD) tenant is required. This is included in our plan.

The tenant gets a unique domain name called "Directory" or "Account". Apps4Rent will provide and manage the tenant for you so that you can start working on WVD without worrying about its administration.

Azure Subscription

Azure subscription is required for creating and running Windows Virtual Desktop session host virtual machines (VMs). The subscription includes WVD Management Service, Windows 10 VMs, and infrastructure. The plans include the cost of all these components.

File Server

WVD uses FSLogix profile management technology to enhance, enable, and simplify pooled (non-persistent) Windows computing environments.

The user profiles (encased in virtual hard disk files) are stored in a file server free from Windows 10 session host virtual machines. When a user is allocated a non-persistent/pooled desktop, the profiles (including the Search cache) remain available independent of the virtual desktop machine the user logs into. With Apps4Rent plans, user profile management is taken care of by Apps4Rent.
Profile Management in WVD
FSLogix replaces existing tools and solutions such as roaming profiles, folder redirection, and user profile disks from Microsoft and its partners and works seamlessly with WVD for user profile management.
Not only does it enhance control over settings and configurations for managing user interactions with their WVD solution but also improves end-user usability. When users customize their environment, FSLogix carries over the changes they have made to their profile to their next session. Our article on Windows Virtual Desktop profile management explains FSLogix in detail
Security Features
WVD is designed with so many security capabilities that will keep your business secure. Microsoft takes security very seriously, and thus it has invested over $1 billion on R&D associated with cybersecurity, and 3,500 security experts are assigned for data security and privacy. If you are looking for compliance, Azure has the most compliance certifications which will meet your compliance regulations such as HIPAA, IRS, CJIS, ISO/IEC, CSA/CCM, ITAR, and more.
In WVD's deployment, Microsoft manages some parts of the services on behalf of the customer. The WVD service has many default sophisticated security features, such as Reverse Connect, which enhances the safety of remote desktops.
Components of WVD Environment
The Windows Virtual Desktop environment comprises of the components that relate to each other to form the setup.
Each WVD tenant can have one or more tenant groups.
Tenant groups have host pools that are collections of Azure Virtual Machines. These Azure VMs are registered as hosts for Windows Virtual Machines by running WVD Agents.
Each host pool can either comprise of personal virtual machines that are assigned to individual users, or pooled to allow access to users who have authorized an app group within the host pool.
These app groups comprise of logical segregations of Desktop applications (full desktop virtualizations) and RemoteApps (selective application deployments). These application groups are logically grouped and associated with workspaces for better app and desktop accessibility.
Although users can a part of multiple app groups which can be either desktop app groups or RemoteApp groups or their combinations, they can only launch one type of app group in a session.
To ensure that user sessions are optimally distributed across virtual machines, there are two load-balancing methods available at the host pool level. In the case of the breadth-first load balancing method, user sessions are equitably distributed in a host pool. The depth-first load balancing exhausts the session limit threshold before redirecting connections to a new session.
Working of Windows Virtual Desktop
A user establishes a connection with WVD from any compatible device using a Remote Desktop Gateway service.
An access token is generated using the Azure Active Directory that is managed using a Windows Virtual Desktop panel.
Windows Virtual Desktop agents running on session hosts establish a reverse-connection with the control panel.
After the gateway establishes a connection, authentication occurs using the AD domain for the client. Trusted devices can store these credentials for faster access.
Eventually, the local domain credentials are used by the FSLogix service to mount a virtual hard disk for the user profile on the session host.
WVD Timeline
Virtual Desktops as we know it today came into existence in 2009 with the use of a hypervisor for consolidating servers. Microsoft extended support for VMware's new solution on Windows XP and Vista. Until 2010, Microsoft licensed Virtual Enterprise Centralized Desktop (VECD) license to run virtual desktops running on Windows. This changed with the launch of Virtual Desktop Access (VDA) license which reduced costs significantly and led to more users adopting VDI.
When Windows Azure became Microsoft Azure in 2014, the cloud services had been extended to include Azure RemoteApp, a platform as a service (PaaS) solution that was eventually retired in 2016 in favor of Self-managed (IaaS) and Fully managed (PaaS/SaaS) solutions. Parallelly, Windows 10 Enterprise was made available through Cloud Solution Provider (CSP) channel for Windows 10 Pro users with Azure AD subscription.
In 2017, Microsoft started working on the Remote Desktop Modern Infrastructure (RDmi) project that evolved into a Windows Virtual Desktop (WVD) as we know it today. With the acquisition of FSLogix in 2018, Microsoft simplified WVD provisioning and profile management.
In 2019 Microsoft WVD was made available in public preview and general availability in the latter half of the year. With the end of extended support for Windows 7 in January 2020, WVD has become one of the most preferred solutions for hosting legacy applications as well as a comprehensive solution for virtualizing desktops and applications running on Windows 10 and Windows Server.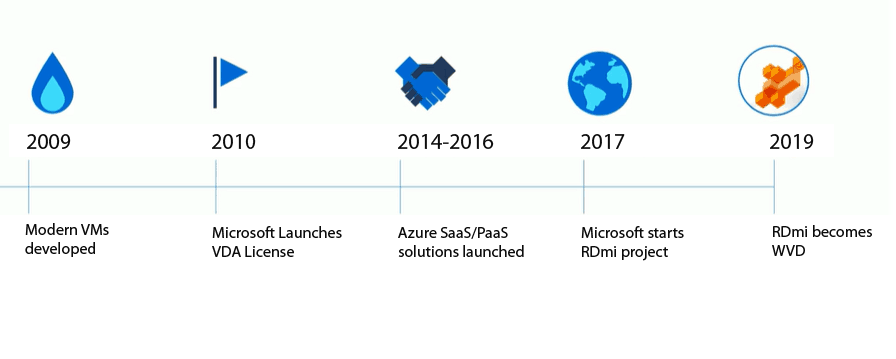 Updates
In September 2018, Microsoft introduced Windows Virtual Desktop as an end-to-end virtualization solution that was the only solution to offer multi-user Windows 10, and free ESU for virtualized Windows 7 desktops.

In November 2018, Microsoft acquired FSLogix to facilitate the adoption of WVD and support hybrid implementation scenarios.

In March 2019, the public preview of Windows Virtual Desktop was made available for Microsoft to work with more customers to improve the solution.

In August 2019, WVD became a feature complete service and advanced into the final phase of for General Availability.

In September 2019, Microsoft made WVD generally available for worldwide customers. In April 2020, Microsoft announced the Public Preview of the Windows Virtual Desktop Spring Update of 2020 major release. As a part of the Windows Virtual Desktop Spring 2020 update, WVD has now been integrated into Azure Resource Manager thereby reducing the dependence on PowerShell, external tools, and web apps for resource management. Additionally, it is now possible to redirect Microsoft Teams audio and video calls using WVD which reduces latency and improves call experience.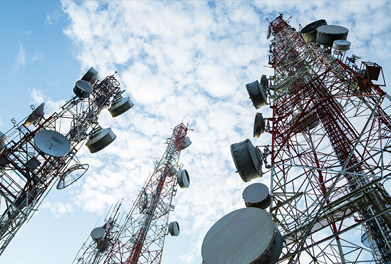 How a Tech Firm Managed Its Business Continuity During COVID-19
Apps4Rent migrated legacy communication systems and IT infrastructure to Azure in a record time without disrupting business.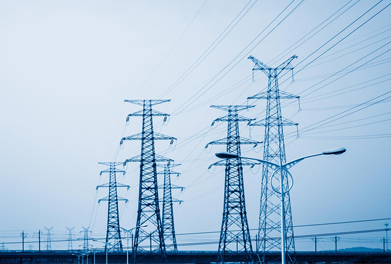 How An Energy Company Migrated to Azure to Serve Its Customers Better
A British energy services company leveraged Windows Virtual Desktop on Azure as its solution for cloud-first strategy.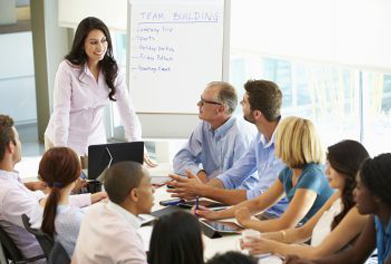 Redesigning Career Planning App on Azure to Get High Availability
How an Ohio-based education company implemented Azure for its LMS to get High Availability solutions.
More Resources