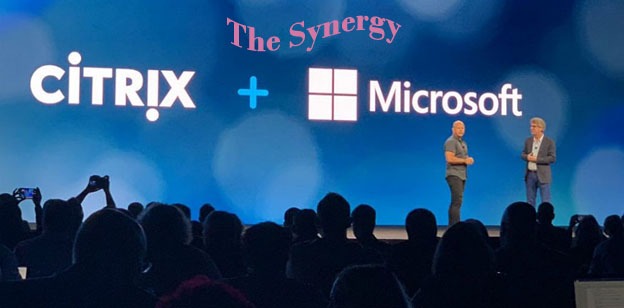 We have been receiving inquiries whether Windows Virtual Desktop (WVD) Azure would be compatible with Citrix VDI. Therefore, thought of taking this up for a discussion.
Here we are going to understand what WVD is intended to be (beyond definition), and how a Microsoft partner like Citrix can use WVD for better customer service and satisfaction. We will learn from Scott Manchester; the principal engineering lead for Windows Virtual Desktop the intention behind rolling out WVD, extending virtualization beyond current niche use cases.
Understanding Windows Virtual Desktop (past definition)
a) Not an innovation but Special
WVD is not something new. A vendor like Citrix was already in the cloud VDI market with its complete virtual app and desktop solutions.
What sets WVD apart is, it allows multi-users Windows 10.
Before WVD, the only option available to support multiple user functionality was to use a Server OS (like Windows Server) with installed RDSH with the enabled desktop experience. The desktop apps often had issues working on server OS. WVD, on the other hand, uses Windows 10 OS for supporting multi-users sharing a single VM and also brings improved user-experience.
The FSLogix provides improved roaming profile management without any issue whatsoever.
Also, WVD alone gives extended free support of Windows 7/8 for another three years.
b) Partner friendly
The most flexible Windows desktop and app virtualization in Azure cloud, Windows Virtual Desktop (WVD) takes virtualization a step ahead. Businesses can use WVD from their preferred service provider; using Microsoft is not a compulsion.
In other words, 'Microsoft WVD' can be delivered by Microsoft alone, whereas 'Windows10 Enterprise Virtual Desktop' can be delivered by any virtual desktop solution provider, including Citrix Workspace. The only rule of the game is, the virtual machines (VMs) running Windows 10 must be hosted in Microsoft Azure cloud.
Microsoft & Citrix have worked together always from past till now.
The flashback
There was a time when users could purchase Citrix XenDesktop/XenApp Essentials from Azure Marketplace. These were moderately different versions and allowed Windows 10 Enterprise virtual desktops access on Azure cloud on a minimum monthly per-user price. Obviously, this helped the hosted Citrix VDI to be a dominant player in VDI space. However, Microsoft now is making its own control plane in Azure.
However, both the businesses realize that building, maintaining VDI and profiting from is challenging with meticulous work, components and business mix-match approach. Hence they strategize accordingly.
Citrix has added multi-user Windows 10 Enterprise Virtual Desktops (EVD) to its operating system (OS). From Citrix control plane, it is possible to construct multiple user catalogs and delivery groups on Azure. As a result, customers can combine Windows 10 Enterprise Virtual Desktop in Citrix Workspace.
Fast-forward to present…Continues
Citrix managed desktop as a service, virtual apps/desktops or the Citrix Essentials products all support Windows Virtual Desktop. The company is integrating App Attach into Unidesk (the management platform for Windows app mobility using layering technology). It separates out Windows Apps from infrastructure so that they can be managed and delivered from any cloud to any device.
The control plane of Citrix is way ahead of WVD due to its seasoning in desktop virtualization than any other player in the market. However, customers not needing the advanced features that Citrix control plane offers, WVD would be perfect for them. And they can avail it from Microsoft or Citrix as well as discussed earlier.
Actually, WVD is based upon global mindset in view with broad partner ecosystem like Remote Desktop Services (RDS). Customers can either take service from Microsoft or from other partners. The point is, with WVD, Microsoft isn't bringing just a different or inexpensive way of offering VDI. Rather it wants to take it beyond the current niche workloads. The question of compatibility issue, therefore, doesn't arise.
Scott Manchester, the principal engineering lead for Windows Virtual Desktop goes to say, "Our overall intention was not to simply shift one user from one solution to the other, but to actually extend the reach of virtualization," Manchester explains. "Any time you can reduce the IT overhead for building, managing and deploying Windows, you're increasing the total market."
Latest cloud-based virtualization technologies allow you to do much more. But, you need experts to help you deliver after understanding your company's requirements. As a Microsoft Azure and Citrix partner, Apps4Rent can help you with the migration of your organization's desktops and applications to the cloud.
Talk to us 1-646-506-9354 any time 24/7 or come for a chat. We will love to discuss!