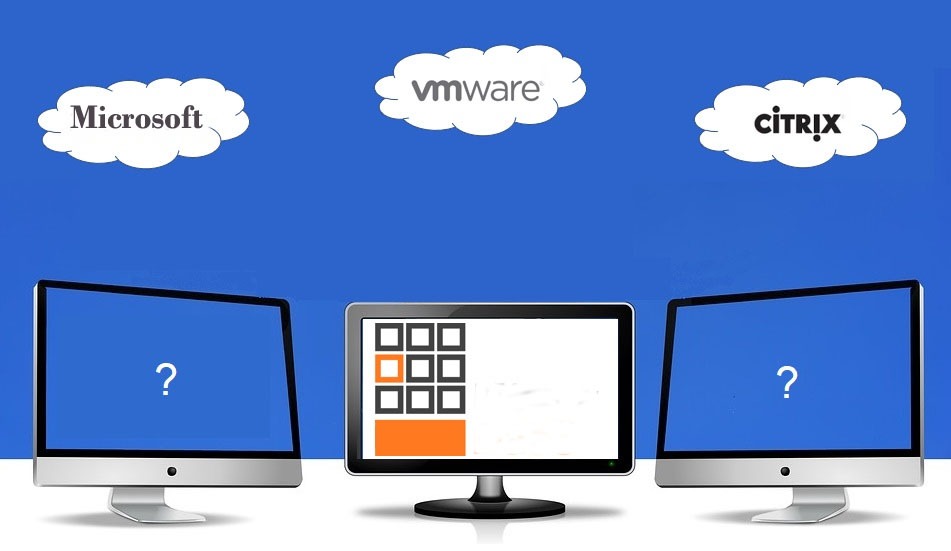 With Windows Azure Virtual Desktop (WVD) Microsoft has started recognizing app and desktop virtualization as a viable strategy for end-user computing. At the moment, there are at least twenty other virtual desktop provider businesses in the market. Compared to this, Microsoft is rather a later entrant in the game of cloud virtual desktops and apps. Our discussion aims to explore what makes WVD hosted desktop as a service stand out from the crowd, and also the scenarios where WVD would be a perfect fit.
First let's take both the parties head-on, i.e. WVD and the other cloud desktop solution providers.
Operating System (OS)
Other Cloud Desktop Providers: Use a Server Operating System (OS) like Windows server, with the enabled desktop experience. Because Remote Desktop Server is available exclusively in Server OS enabling multiple users sharing one virtual machine (VM). It has limitations.
For example, the Search index will be a per-machine database. If a user switches over to another VM, the index needs to be rebuilt.
WVD: Uses Windows 10 OS for supporting multi-users sharing a single VM, aimed at improving user experience. For example, the Search index is a portable database per user and will move with the user from one VM to another.
Control Plane
Other Cloud Desktop Providers: Uses the RDS infrastructure like Web access, Gateway, License server, connection broker (software program allowing the end-user to connect to an available desktop and performing tasks like validating and providing the connection to the user), and HTML client. Such server roles are installed on Windows Server virtual machines (VMs) managed either by a customer or a managed service provider.
WVD: Replaces domain-joined RDS roles by Azure cloud service simplifying the process and the use of virtual machines (VMs) to run them.
Other Cloud Desktop Providers: It is quite difficult. Despite plenty of solutions available including Microsoft's own roaming profiles, folder redirection, user profile disks and many third-party products, not even one is fool-proof.
WVD: Using FSLogix tools like Profile Containers, the user profiles can roam through all the pooled session hosts.
Licensing
Other Cloud Desktop Providers: Separate license required for RDS and the Server OS.
WVD: Windows 10 Enterprise subscription will be enough to avail WVD. No additional expense for purchasing a Server OS license or RDS.
All said and done, though windows virtual desktop cloud is available worldwide and you can host your VMs wherever you want, as of now the management plane instances are available in the US and EU (though future and fast expansion could be possible). Second, you will need to bring your own images, apps, security patches and other software to use WVD.
Now the dilemma…
WVD vs other Cloud Desktops, which should you select? Let's run some instances to help you make an informed decision.
WVD Use Cases
Case-1
You have some legacy Windows apps (like Windows 8 or legacy Win 7 support) that you need to continue with then it's worth shifting to WVD with your existing license (like Microsoft 365 – E3/E5/A3/A5/Business; Windows (via CSP) – E3/E5/A3/A5).
Case-2
Your business needs a flexible workforce due to merger/acquisition or consulting business or seasonal business, specific roles (using BYOD) or departments with similar computing environments.
Case-3
Industries with security and regulation as the topmost priority like defence, government, healthcare or finance, for example, will find the regulatory norms best met through WVD. Security controls like multifactor authentication (MFA) plus the fact the virtual machines (VMs) in WVD are not exposed to the internet directly bring tremendous leverage for such sectors.
Case-4
In case if you are looking for cost reduction, WVD could be your good bet from CAPEX and other savings point of view. Also, if you want the best-integrated solution for virtualization minus the headache of building, maintaining the infrastructure along with cost-saving, WVD could be your final destination.
Do not hesitate to reach out to us any time should you need any further elaboration or clarification on this.