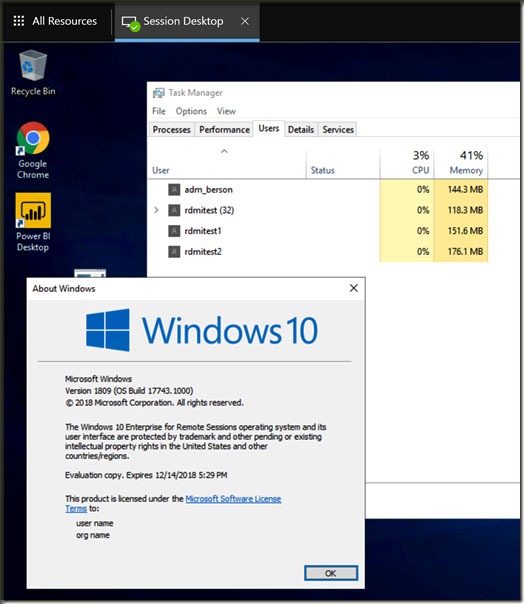 The purpose of this discussion is to give you an overview of Azure Windows Virtual Desktop (WVD), its overall architecture, setup processes and above all, a general idea of what the platform looks like from the viewpoint of users and mainly administrators. Without getting into the details of uses, cost factors, other features (or comparisons) of Azure Windows Virtual Desktop.
Windows Virtual Desktop is a cloud platform service managed by Microsoft Azure for virtualizing desktops and apps for customers and end-users.
WVD offers multi-session virtual Windows 10, optimizations for Office 365 ProPlus, and support for RDS environments. The Azure portal and Powershell commands help in Image management, profile management, and virtual disks for caching and more. See: WVD vs RDS
WVD Architectural Overview

While the Remote Desktop Session (RDS) client (Windows, Mac, HTML5, Android) is managed by the user-organization; the Web Access, Diagnostics, Gateway, Broker, operating system installation, up-gradation, patching of the Operating System (OS), network configuration are all managed and controlled by Microsoft in Azure.
End-Users access the Virtual Machines (VMs) along with user profile/offline caching technology (FSLogix or optimizing the Office 365 ProPlus) via WVD nestled in the organization's Azure VDI subscription.
Licensing Simplified
Licensing gets simplified as you will not need a Client Access License (CAL). Your existing Windows E3 or Office 365 Pro Plus subscription or even an eligible Microsoft Remote Desktop Services (RDS) Client Access License (CAL) will be enough.
Setting Up Windows Virtual Desktop
As already discussed, you need not worry about the management or OS installation, maintenance elements. Selecting and customizing a desktop image, configuring some Azure services and assigning desktops or apps to users is all you need to do. Of course, you will need PowerShell expertise for this.
The Windows 10 multi-user option is available from the gallery. It is not exclusive to WVD but to Azure. Hence VMware, Citrix is also offering the same although managed by a different control plane.
User Access
Accessibility can be done by way of a) Microsoft RD client b) HTML5 based Web Client c) iOS RD Client.
After authentication, the end-users are authorized to access the virtual desktops or apps that are included in the Azure subscription.
Once the users select their choice resources, they get connected via the Gateway. The connections can be pooled or exclusive.
WVD Experience Synopsis
Pleasures for End-Users
Easier to set up compared to conventional Remote Desktop infrastructure.
Multi-accessibility via RD clients or web browsers.
Windows 10 with a multi-user option.
On-demand automatic scalability.
Awesome desktop experience.
Pains for Admins
Only an Application or Desktop is available from a pool per user; not both.
If you are not comfortable with PowerShell scripts, setting up a Windows Virtual Desktop (WVD) tenant could be challenging.
Microsoft does give you a couple of management tools, but you need to deploy them manually and get an App service plan at an additional payment.
To conclude, WVD does need improvement in some areas. But, as of now, it is the most simplified, versatile service with a multi-user Windows 10 option. Additionally, for those who wish to continue with Windows 7 for a while, will get free security updates for another 3 years after 2020.