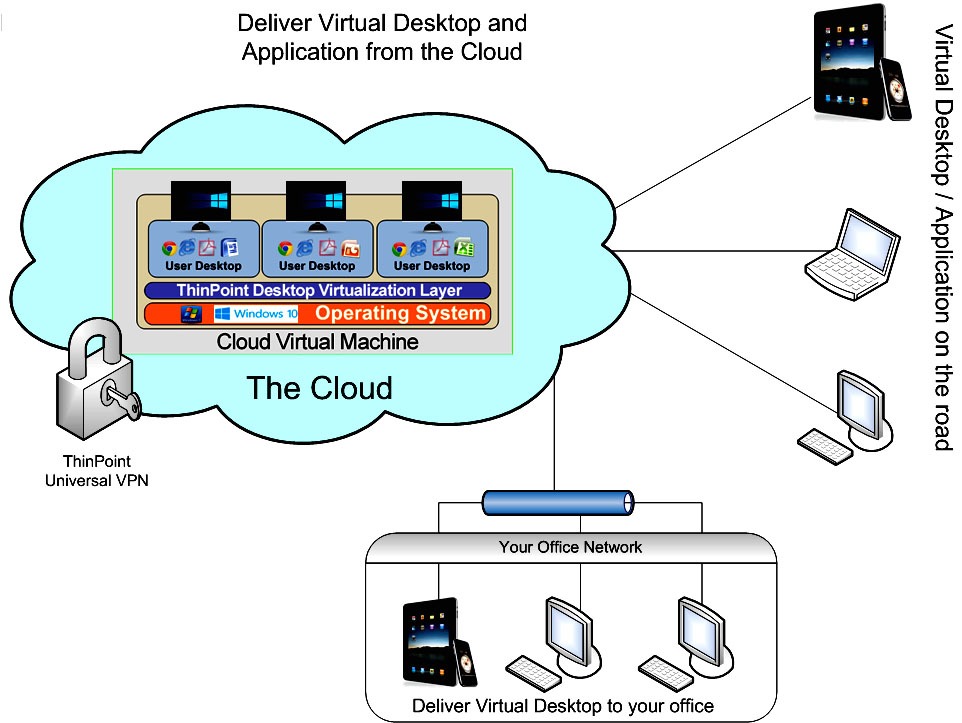 Enterprises worldwide are seeking a more agile, easy and secure way of doing business. Windows Virtual Desktop (WVD) offers maximum fluidity with device-independent, location-free, using any Remote Desktop (RD) client (Windows, Mac, HTML5, Android) and with multi-user facility.
For you, we are going to discuss here the issues and expectations of businesses from virtualization vis-à-vis, how Windows Virtual Desktop cloud smartly plugs-in the expectation-deliverance sockets.
Business pain points
Businesses are there who want Virtual Desktop Infrastructure (VDI) or hosted desktop as a service,without the burden of building, maintaining this infrastructure. They want a cloud desktop from someone who must build everything…the operating system (OS), tools, and the cloud; so that they get everything at one place making their life simple yet cost-effective. The pleasure of virtualization minus the headaches.
They prefer Microsoft; as it gives them everything under one umbrella. Microsoft Office being the most used virtualized app, enterprises mostly using Microsoft management already, prefer the best-integrated solution for virtualization for moving everything to the cloud.
The pleasure balm of WVD
The simplicity of using WVD without having to pay for hardware, easy with the licensing system (usage rights are included in Windows E3 and Office 365 Pro Plus licenses), and finally the biggest edge…the exclusive multiple user cloud VDI, Windows Virtual Desktop (WVD) has taken virtualization to the next level. Those who are still with Windows 7 will get an extended free security update for the next three years.
Here's a quick rundown of what WVD can do for you…
Windows Virtual Desktop Cloud Takeoffs
WVD is a typical example of fluid flexibility that it brings to companies. Users get the same desktop experience from anywhere, using any RD client application (Windows, Mac, HTML5, Android).
Complete virtualization of desktops, apps; assigning and connecting users.
Bringing down your capital expenditure by reducing hardware expenses.
Supports persistent/nonpersistent VDIs with dedicated or multi-session uses.
Without the compulsion to deploy or maintain on-premise infrastructure. Gateway, brokering, licensing, and diagnostic services come as an Azure service.
Reduced CAPEX cost frees up funds to be utilized elsewhere.
Saving money through multi-session and reducing the number of virtual machines (VMs) through their optimized allocation.
Benefits of extra security control via multifactor authentication (MFA) through Azure Active Directory.
Additional security is ensured as the virtual machines (VMs) in WVD do not get a direct internet connection. Using private IP address they remain separated from other workloads or internet through the technology of reverse connect (the reverse connect technology allows access to virtual machines without the need of inbound ports. Instead, an outbound connection using TCP/443 is made into the WVD management plane).
Instead of running directly on the internet, the Windows Virtual Desktop virtual machines (VMs) run by way of reverse connect technology using a private address and remaining separate from the internet or other workloads.
Optimization of Office 365 ProPlus.
Enterprises already using Windows 10 Enterprise E3 Per User" license, Windows 10 Enterprise E5 or Microsoft 365 E3, E5, F1, or Business or RDS CALs can use Windows Virtual Desktop without any extra expense. The only expense would be for Azure storage and network.
The list is just the tip of the iceberg. With time Microsoft could unfold yet more potential advantages of WVD. But for now, we hope to have given you a bird's eye view of the benefits you will get through WVD.