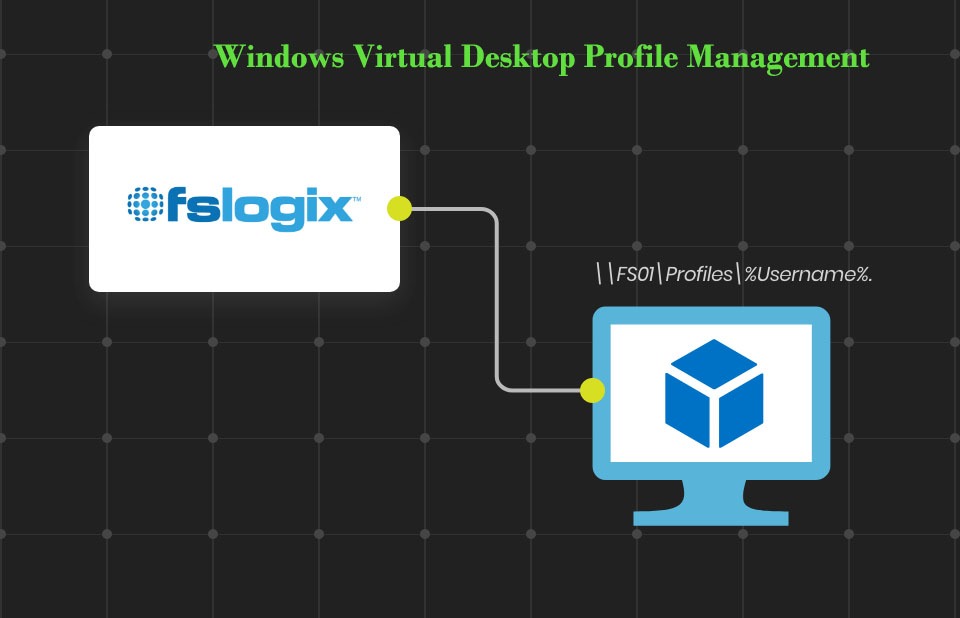 Profile Management or managing the what, when, why, who and how of users is not a fun-game. It had always remained a serious issue, especially in virtualization or hosted desktop as a service landscape.
Despite the available tools including Microsoft's roaming profiles, user profile disks, folder redirection and many third-party tools, none was without compromise. Windows Virtual Desktop (WVD) profile management through FSLogix takes care of the painful limitations of profile management. We will explore here how profile management is done by WVD.
What is a user profile? Why Crucial?
A user profile is a bunch of settings and configuration data (folders, files, registry settings, and configuration settings) that shows how the user interacts with the desktop environment.
Some such settings are customizable and customized by a user, like backgrounds, taskbars, desktop icons, layouts etc. Some configuration is set by the IT department using tools like Group Policy (GPO), user environment management solution (UEM), Scripts and more.
Now, a profile is operating system (OS) specific; doesn't work beyond its own OS. For example, a Windows 7 profile will not work with Windows 8. Forget about working between desktop and server OS.
There are 1. Local Profiles and 2. Roaming Profiles
Profile Types
1. Local Profile
In this case, a user's profile is stored on a network server (in contrast to being stored locally on a desktop PC). Through Active Directory configuration admins link the roaming profile with the user's account. Whenever the user logs in, Windows copies the user profile from the network to the local computer.
The default profile in any Windows environment that lives locally. By default, it contains everything related to that user's operating environment. As a user upgrades Windows, simultaneously the user upgrades the profile. But if the user signs into another machine, the process has to start again. The user experience fails.
2. Roaming Profile
Although Roaming profiles became commonplace, it had its challenges. The user experience was slow, painful; the admins got sleepless hiccups and swollen eyes.
FSLogix for profile management
Microsoft acquired FSLogix for better profile management of the user profiles that roam through all pooled session hosts.
Profile Containers
The FSLogix tools help in profile and application management especially in a virtualized environment and the most valuable tool is Profile Containers.
What Profile Container does is, it packs the user-profile to VHD(X) files, stores it in File share. These VHD(X) files can be mounted through network when the user logs in and demounted when the user logs out.

Cloud Cache
To reduce network traffic, FSLogix brings a caching mechanism – Cloud Cache. It caches profile files to the local machine.
Multi-session feature
Multi-session at a time is the beauty of WVD. This feature is done through FSLogix.
With all these advantages, the beauty of FSLogix is it doesn't need an extra license but comes bundled with existing WVD license.
Advantages of FXLogix
i) Improved Performance: through profile containers and resolve performance issues.
ii) OneDrive: FSLogix profile containers enable support for OneDrive in non-persistent RDSH or VDI space.
iii) Additional folders: FSLogix enables to extend user profiles to include additional folders.
Virtual desktop profile management has had been a challenge for a long time. But the profile management through FSLogix comes as a relief aimed at flawless profile management.