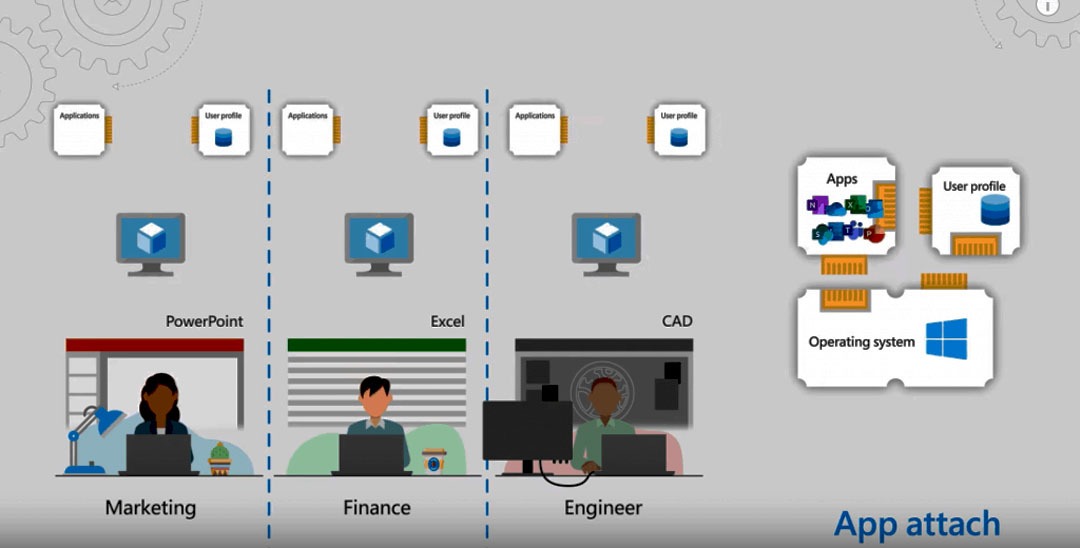 In our present discussion, we will try to understand the application management services in a virtualized environment, its challenges, how they are overcome by the future technology developed by Microsoft for Windows Virtual Desktop (WVD) and what the clients and users can expect.
Challenges of Application Management
Application landscape involving installing, running and updating remotely is the most time consuming and challenging task for Application or Desktop delivery.
The reasons are:
Various applications come from different vendors, each with its own installation and updating rules.
Many applications are there that are not designed to run on the background of a multi-user operating system (OS). They may require some particular registry settings, need special permissions to run or require specific files in the user's profile.
Commonly used Application Management Systems
Use golden images: install your apps in an image (golden image) and update it. Then update your host pool or session collections by deploying this golden image.
However, if different sets of users require different applications you will need multiple such golden images with the compulsion to maintain, manage and update them. Could be a major headache for large organizations.
Install all applications in a single golden image: use the masking technology of FSLogix to hide/show different subsets to different user-groups as required. The drawback here is, the golden image could become extremely large to manage over a period of time.
Application Streaming: another common option that enables you to stream applications on demand but again for this you will require to maintain application streaming infrastructure and that could be a complicated process.
The new method of Application Management: MSIX app attach
MSIX, a relatively new technology for application management in WVD, basically is Microsoft's Windows application packaging format that enables an application-attachment to any OS, much similar to Profile Containers. MSIX maintains the existing application packages/files and at the same time brings modern packaging/deployment features.
MSIX packaging tool allows you to convert existing applications to MSIX packages. The tool helps to streamline the packaging experience.
When MSIX is launched, the application files are accessed from a virtual hard disk (VHD) and the user is not even aware that the application is remote because the app functions like any local application. Another advantage is if the device needs a reset or re-image, these applications will not require a re-installation.
AppAttach, an extension of MSIX is a development on the MSIX packaging tool and registers the regular MSIX applications on a device instead of physical download and installation. The registration is almost immediate and enhances user experience.
MSIX App attach (as it is officially called) can be used on-premises, Azure or AWS environment without any modification and is independent of the OS used. Microsoft officially confirmed that Windows Virtual Desktop will be using MSIX App attach as the native/default way of managing and provisioning applications within WVD.
With the growing interest for WVD plus many companies already using App-V or any other application management solution, the advantages of MSIX App attach over the rest of the pack might make it extremely popular.
The Advantages MSIX App attach brings
MSIX app attach now is taking up all the Application Layering functions that App-V has been doing till now. Here are the returns it brings:
No need of special deployment servers
The existing MSIX packages are sufficient without altering/repackaging
There is no performance impact
Can be used on-premises or Azure/AWS cloud independent of the underlying OS
Will be functional in physical/virtual machines, single or multi-user environment
The Future of App Management Technology
With Microsoft's announcement that App-V would not see further development, MSIX AppAttach would become the standard app streaming/layering technology in Windows Virtual Desktop. Here is what the Microsoft official says:
"App-V is not under active development but it is supported in Windows 10. We will work closely with our App-V customers to ensure that their requirements are met by the future of app deployment, MSIX in conjunction with SCCM/InTune" – Andrew Clinick, Microsoft
To conclude, MSIX App attach is surely going to be a key driver and define the how Microsoft will be evolving Windows in the domain of virtualization especially with its Windows DaaS.
For any of your Azure Virtual Desktop requirement or inquiry consider Apps4Rent. With more than 15 years of experience of offering managed Azure solutions, the company has served more than 10,000 clients so far. Please contact 1-646-506-9354 any time.