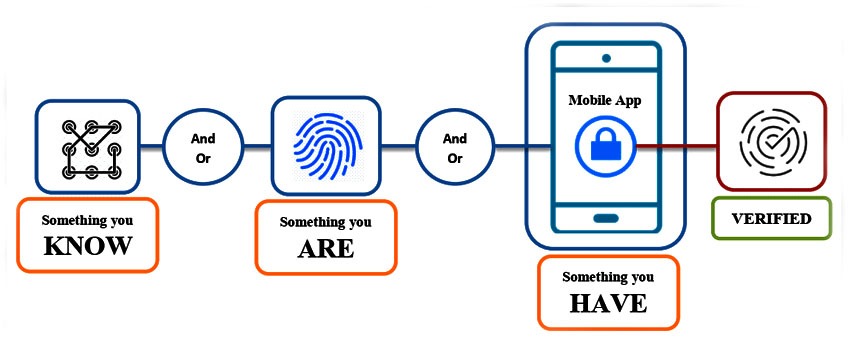 Azure Windows Virtual Desktop (WVD) supports Azure Multi-Factor Authentication (MFA), Azure Conditional Access (CA) and Self-service password reset (SSPR).
While Conditional Access is great for user-access based on their location, device, and other conditions Microsoft desktop as a service recommends that you direct your users to choose MFA. The admins can define in their policies which authentication methods are available to users because some methods may not be available to all features.
Why do you need Multi-Factor Authentication (MFA)?
MFA is required to protect access to data and applications. At the same time making it simple for the users to access. It provides an extra layer of security by making additional authentication mandatory and provides a powerful authentication system through a wide range of authentication methods. For example, password authentication needs MFA and SSPR, Microsoft Authenticator app also needs the same.
As a precaution, Microsoft also recommends that the admins must enable the users to select more than the minimum number of authentication methods required.
Breaking MF security is hard to beat challenge for attackers. Even if a hacker gets the user's password it remains useless unless the additional authentication methods are broken into.
Principles of MF Authentication
The MF authentication is based on the principles of Something You:
Know (a password)
Have (a trusted device such as a phone, laptop)
Are (biometrics)
MF authentication uses two or more of these methods for validation.
Ways to get Multi-Factor Authentication Solutions
MF forms an intrinsic part of the following:
Azure Active Directory Premium service / Microsoft 365 Business solution: Complete MF authentication using Conditional Access policies.
Azure AD Free (that comes with an Azure subscription) or standalone Office 365 licenses: These use pre-created CA baseline policies (set of predefined policies that help protect organizations against various common attacks like phishing) to require MF authentication for users/admins.
Azure Active Directory Global Administrators: these are Azure MF authentication capabilities for protecting global administrator accounts.
Creating Awareness for Multi-Factor Authentication
Users mostly are familiar with using only passwords for authentication. Therefore, they need to be informed about the process and its importance. This will also help to reduce the chances of users reaching out to help desk for minor issues related to MFA.
Temporary Disablement of MFA: Some Scenarios
Situations could arise where the MFA needs to be bypassed or disabled temporarily. The following could be a couple of examples:
A user is unable to sign in because of not having access to the required authentication method or it fails to work properly.
Using the Conditional Access policies for Azure MFA Service you can add a user to a group that does not require MFA.
To conclude, integration of Azure MFA and CA with WVD will allow admins to create a remarkably secure virtual desktop environment and at the same time making it easily accessible to users, independent of device or location.
Consider Apps4Rent for your Azure WVD requirement or inquiry. As a Microsoft Gold partner, we have been offering managed Azure solutions for more than 15 years and served over 10,000 businesses. Please feel free to contact 1-646-506-9354 any time.