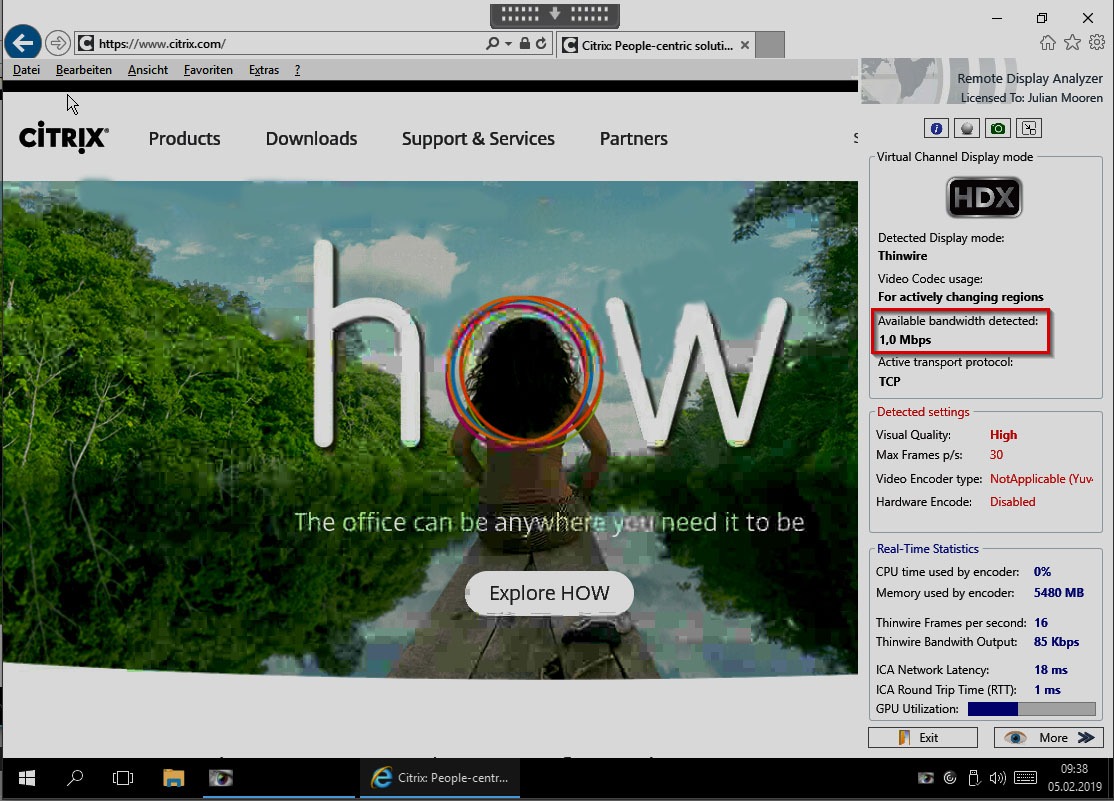 HDX (High Definition Experience) is a technology built on Citrix ICA (Independent Computing Architecture) protocol to deliver high-definition user-experience of any graphics intensive software application including CAD, accessible from any device, over any network situation. Not only it gives a high performance of the most demanding applications, but it also gives fast deliverance, irrespective of the location of users anywhere in the world.
Principles on which HDX works
There are three technical principles on which HDX works to bring results like decreasing bandwidth, optimizing applications, user-experience and collaboration.
1. Active Redirection happens through a scrutiny of screen activities, application commands, end-devices, network/server capabilities to determine how and where to render an application or a desktop activity. The redirection happens instantly on any device.
2. Active compression is an intellectual property of HDX to determine the codecs (a computer program that encodes/decodes digital data or signal for shrinking large audio/video files for speedy downloads/ streaming), that are to be used for different network situations ensuring maximum utilization of CPU or GPU resources.
3. De-duplication (a technique for eliminating duplicate copies of repeating data) is achieved through multicasting and caching techniques.
In HDX multicasting, one-to-many communications happen by delivering a single transmission from one source point to many users; while HDX caching de-duplicates most commonly used accessed data like graphics, streamed-media, files, print-jobs.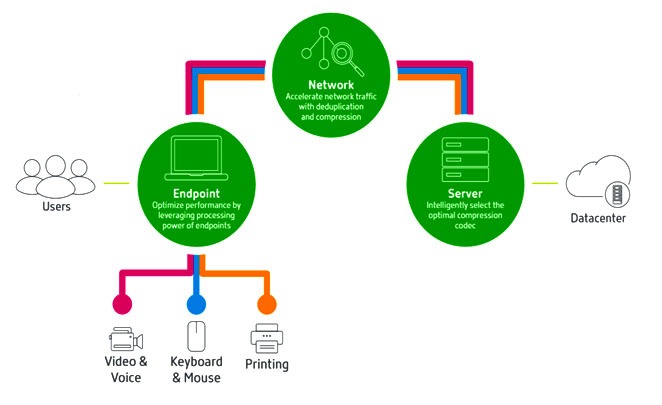 The 3-level user-experience through HDX
To deliver high-definition user-experience, HDX uses different technologies at various levels.
Device Level: The MediaStream technology of HDX is responsible for delivering a smooth, seamless multimedia experience at the endpoint device of the users. The workspace control enables users to pause/stop virtual desktops or apps, and restart from a different device exactly from the same left-off point.
Network Level: The advanced technologies of HDX ensures the best performance over any device using any network (including the low-bandwidth, high-latency WAN situations), adapt to changes in the environment, balance load for every unique user-scenario. All these are achieved irrespective of the user-device or user-location.
Datacenter Level: HDX uses the processing power and scalability of servers and delivers high-end graphics output irrespective of the capacity of the user device (desktop, mobile or tablet).
The multimedia data are compressed through active compression and sent directly to the end-point user device in its native format. The channel monitoring capability of HDX shows the status of connected HDX channels on a user device.
User-experience actuals
1.Seamless Multimedia performance
Users get the same kind of multimedia experience they receive from non-virtual desktops. The deep compression of graphics/video brings higher frame rates with better image quality at maximum bandwidth efficiency and the best audio performance with the lowest latency.
Instant rendering of multimedia content is achieved through active redirection capability. The multicast video support for Flash and Windows media enables any number of users to access content rendered and transmitted only once. This saves enormous bandwidth and data center resources for live streaming of videos, training programs, web conferences or news channels.
2.Unified Communication (UC)
Association of Citrix with all the major UC vendors like Microsoft (business Skype), Cisco (Jabber) and Avaya one-X help real-time optimization of peer-to-peer communication between end-users when the app is hosted centrally in a virtual environment.
HDX ensures real-time high-fidelity audio, video experience and screen sharing with minimum latency and highest network priority, delivering a great experience during video meeting or conferences.
3.2D, 3D Graphics
Active compression and rendering help to optimize the performance of both 2D and 3D graphics and CAD. This can be accessed from any device and any network; even at low bandwidth scenarios. The HDX 3D Pro is now available both for high-end 3D professional graphics and business graphics apps as well (Microsoft Office apps for example).
4.HDX Mobile giving Windows apps a mobile-native experience
Users of Citrix Receiver working in Windows apps and server-based desktops on mobile devices get the same mobile-native experience due to the native interface control channel of HDX. The native interface control allows Windows apps to be re-factored for a touch experience including multi-touch gestures like pinch-zoom and more.
5.USB-Support
USB devices like webcams, audio recorders, music players, 3D Space Mouse, cameras get a seamless plug and play connectivity through HDX.
6.Printing, Scanning
Both local and network printer types are supported. Citrix developed the print driver/server technologies from scratch. The advanced Universal Print Server brings improved scalability, OS-support and performance monitoring.
7.Simplified administration
Lastly, the Pre-defined HDX policy templates based on use cases (for example, bandwidth-constrained WAN users, high server scalability), simplify administration and ensure that the users get the best possible experience, meeting the IT objectives at the same time.
To sum up, HDX technology forms the foundation of Citrix XenDesktop and XenApp platforms bringing the highest kind of high-definition user-experience globally accessible on any device, bandwidth or network type.
If you are looking for online implementation of graphics intensive applications like CAD, live streaming or rendering; Apps4Rent can help you with a solution on our own Citrix XenDesktop VDI or on Azure. Apps4Rent is a Citrix Partner as well as a Microsoft Azure Partner.
You can opt for a session-based or a dedicated plan as per your need; keep adding users instead of fresh purchase for every new user.
There is no minimum user limitation. The pay-as-you-use with month-to-month billing brings substantial savings to otherwise expensive HDX-CAD virtualization.
Contact our 24/7 sales team to discuss your requirements.