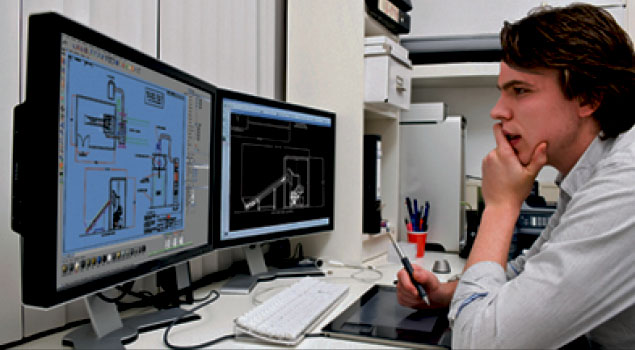 In the present discussion let us explore why and how companies are going for high-end graphics virtualization, how Citrix is helping companies with virtual 3D CAD and the advantages of Citrix graphics virtualization.
Designing and manufacturing companies worldwide face issues of global collaboration. Their CAD professionals, especially the offshore members /working remotely using any smart device need to conform, collaborate and manage the design environment; with high performance and precision.
For example, a design engineer in London needs to synchronize data, send editable files, live-collaborate a design to a colleague in Australia, to complete a project fast. Earlier, this was something almost impossible to achieve. The companies at the same time, needed the teams to work with more flexibility, complete projects quickly, start new projects and consistently grow their business.
Citrix XenDesktop comes as an ideal solution with high-end graphics. Through virtualization of such graphics applications, even moving the entire CAD workstations to the cloud, companies now can get a one-stop solution to all their designing needs.
The HDX 3D Pro acceleration technologies of Citrix not only increase the high-quality experience, visual performance of the demanding applications, but also their fast deliverance from anywhere with any-device access.
Autodesk Inc., the company popular for CAD software, works with Citrix to bring CAD online solutions with Citrix virtual desktops. The company has allowed customers to implement Autodesk products in virtual environments and has partnered with Citrix for the purpose to bring flexibility, ease and efficiency of use of its products.
Advantages of CAD with Citrix
Significant Cost Savings: companies can quickly assign more members to the teams, split teams across different projects at multiple locations. They can hire project-based professionals/freelancers without having to pay for the travelling expenses or provide complete CAD workstations and see them off at the end of the project. All these reduce the lead time of a project. Even old or ageing CAD stations can be replaced with thin clients.
Freedom of virtualization: the virtual desktops/apps that are executed on server-based virtual machines give the designers to use any device with the same look, feel and experience of a traditional PC. Your shop floor can go paperless with less expensive thin-client 3D users.
Centralization, Safety: Centralization helps companies to avoid hackers and security issues while protecting the IP rights and customer information. They can collaborate safely with other business partners, contractors or outsourced workers, exchange sensitive design data ( as these are never stored on any device exposed to risks). Businesses can now centralize everything, with real-time secure access from any location.
Real-time collaboration: A designer can collaborate with a co-worker real-time from anywhere, can share work with a customer from any location, even using just a tablet, thus speeding up the production execution process.
Single unified platform: Companies can use any network/cloud infrastructure through a single unified platform with a simplified deployment process and user-management. At the same time, support a wide range of desktop and application delivery scenarios from any smart device.
HDX technology: A proprietary technology that brings a "high-definition" design experience to the users. Citrix XenDesktop protocol includes HDX 3D Pro technologies for enhancing the visual performance and delivery of graphics-intensive apps. It is designed to optimize the IT/user experience, decrease bandwidth consumption substantially, and increase user density per hosting server along with speedy service.
Companies find this extremely useful for any kind of high-end graphics, smooth voice/video streaming and multimedia performance.
While HDX eliminates the need for any special graphics processor at local workstations, it supports professional designing peripherals like 3D Space Mouse and large displays.
NetScaler & SD-WAN: NetScaler helps the apps to run faster reducing the web-app ownership costs with server offloading and ensuring the availability of apps with load balancing function.
Designers can access data and applications through NetScaler irrespective of wherever they work from (even a Cybercafe using any type of network) or whatever device they use, all with the same high- quality output experience.
The SD-WAN reduces costs, improves performance with agility and optimized user- experience, simplifies cloud-based management operations. Even you can optimize your Skype for Business in a virtualized environment for seamless audio-video streaming.
NVIDIA virtual GPUs: The Citrix Workspace along with NVIDIA virtual GPUs enable the designers to view, collaborate the same 3D CAD files/designs independent of their location. The engineers based anywhere in the world can access and collaborate the same files defeating the distance factor (even more than 9,000 km long WAN overhaul is possible).
The NVIDIA graphics processor speeds up rendering of complex graphics, its compression codes deliver good application performance even in a narrow WAN bandwidth environment.
Apps4Rent hosted CAD with Citrix
Citrix Partner: As a Citrix Partner, Apps4Rent can implement your online CAD solution. Apps4Rent brings XenDesktop hosting solutions either in session-based or dedicated modes. With the session-based mode, Apps4Rent professionals are responsible for the installation of apps. Whereas with the dedicated plan you can install any of your customized desktop apps with the option of adding GPUs. Extremely suitable for your graphics intensive applications.
Reasonable Price without Contract obligations: Citrix CAD virtualization is expensive as it is suitable for high-end graphics. With Apps4Rent you can significantly reduce your expenses with the pay-as-you-use model (month-to-month billing) with freedom of easy up-scale as your requirement grows. Without any need for you to sign any contract. Very helpful for small/medium-sized businesses.
Flexibility, Freedom, Security, Ease: There is no upper / lower limit of users. Irrespective of your number of users or issues (significant or minute), you can avail expert assistance any time 24/7 using chat or phone, access from anywhere in the world using any smart device, without the headache of infrastructure management or security updates/issues. All your data and IP will remain safe and secure as the services are delivered from top-tier SSAE16 Type II certified data center in NY, USA.
Add-on-Users: Will enable you to keep adding new users as and when you need, without buying afresh for every new user.
Long Experience: With the involvement of serving over 10,000 businesses for more than 15 years, Apps4Rent brings the best service with excellent response time in the industry. The service includes calls-attendance (within 15 minutes), 24/7*365 help desk/remote support, online knowledge sharing, infrastructure monitoring, ticketing system, management, updates, maintenance, patching, escalation and everything you need.
For further technical discussion, support please feel free to talk to us 1-646-506-9354 any time.