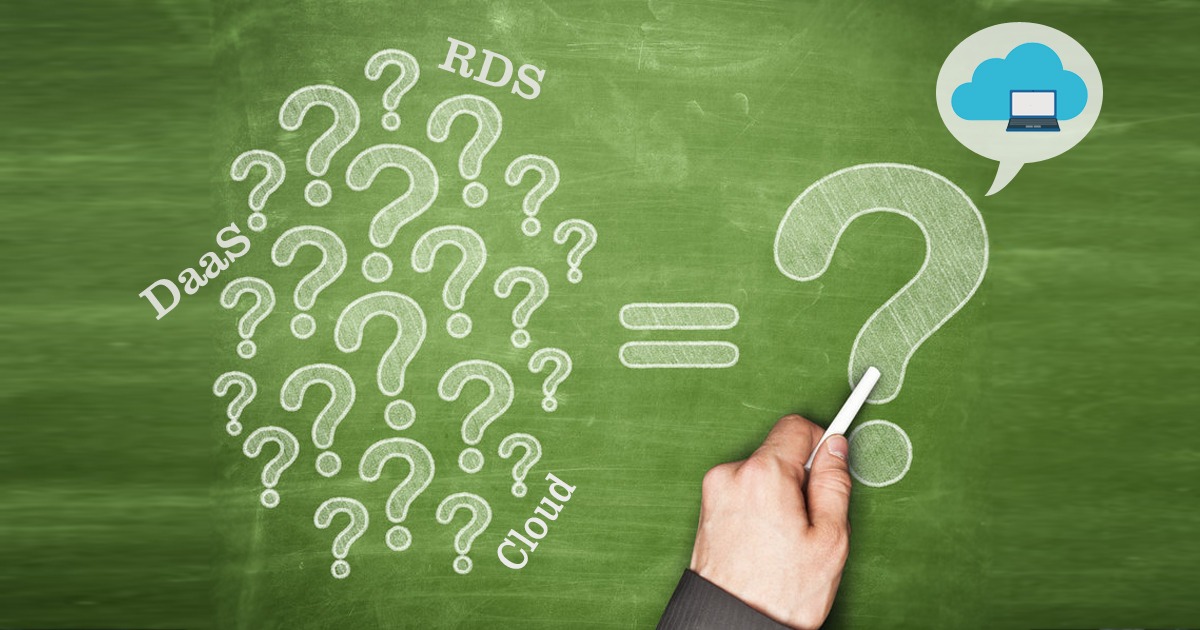 In the past, for 30-35 years, we have known personal computers (PCs) or personal desktops as our work partners. Physical machines that we purchased and came with the familiar Windows interface and applications that were tied to the physical machine; one did not have a reason to exist without the other.
All that is becoming a history fast.
The Future of the Desktop is Virtual and, in the Cloud
Businesses (and often solopreneurs too) now want to be free from the IT-related hassle right from purchasing the machines, servers, installation, maintenance, timely upgradations (and hiring staff for the job as well).
With virtualization software from cloud desktop services vendors such as Microsoft, Citrix, and VMware, physical machines can be divided into virtual machines that behave like their physical counterparts in all respects.
We have hot selling products such as Cloud Desktops from various vendors including large ones like Microsoft and Citrix. Microsoft now offers an Azure version as the Microsoft Windows Virtual Desktop (WVD) and Citrix brings Citrix virtual desktop – the Citrix XenDesktop.   
Virtual machines are better suited than physical machines to the changing needs of businesses. They are easier to manage and utilize and optimize. Lower capital and operating cost per virtual desktop is the result.
A Cloud Solution Provider takes a cluster of physical machines, builds many virtual machines with software; makes them accessible (with security) from the internet. Finally, combines them with provisioning, management and billing control panels.
The entire bundle is offered with services and support at a monthly price per desktop to users.
This service is known as a hosted Virtual Desktop or Desktop as a service (DaaS) which businesses from across the globe are now preferring.
Your DaaS Takeaways
What you do with DaaS is, opt for virtual desktops from a third-party service provider. Then access them from anywhere in the world from any smart device like smartphones, tablets.
The third-party service vendors or providers of desktop as a service supply these cloud desktop services to clients as per their needs.
It is your service provider who will take care of the IT support, hardware maintenance, patching, updating everything. You hand over the control of your desktop to a cloud service provider.
Precisely this is where you need to be careful and make an informed decision. Because all your data and application henceforth will be there hosted on their servers.
Here is a rundown of questions that you must ask your DaaS provider before finalizing a deal.
Questions to Ask Your DaaS Provider
Are you getting flexible pricing?
Do you get an array of plans to choose from as per your need?
Can the plans be customized as per your choice?
What discounts are you getting? (you should get a discount if you are opting for an annual plan)
Are you getting a free trial to experience for yourself?
Customer Support / Handholding?
You will need them whether you are a newbie or a pro. Ensure that you get them wherever you are located in the world, round the clock 24/7*365.
Additionally, ask them…
What are their average response and resolution time?
Their availability on multiple platforms…call, chat, email?
Important enough to occupy first place in the checklist. You are trusting them with all your data and application. Check with them all the meticulously all the security aspects. Some questions to ask…
What are the security methods deployed by them like data encryption, multi-authentication, firewall, intrusion detection and prevention in real-time, data monitoring, etc.?
What is the access control process?
Just being in the business does not prove the experience level and depth. Although DaaS is a niche and relatively nascent domain, the providers who are in the business from the very beginning will definitely have a better edge over new entrants.
Get to know their customers, study the reviews. Are the customers happy?
Do they have experts in cloud computing and virtualization?
Study in-depth the terms and conditions of the Service Level Agreement (SLA). Be aware. There could be clauses that you might not be willing to agree with.
Virtual Desktop (VD) Types?
You need to ascertain the kind of virtual desktops you will need…Non-persistent and Persistent.
Persistent virtual desktop saves all your user settings before you logout. You get the same user settings once you restart.
The non-persistent virtual desktop is just the opposite. The user settings are not saved, and a random desktop is assigned each time a user logs in.
This is the 'guaranteed' complete availability of the virtual desktops given by your service provider. Reliable companies offer at least 99.9% uptime, meaning the virtual desktops are available throughout the year, almost.
a. What kind of infrastructure do they deploy so that you get high-performance server services and SSD storage?
b. What would be the quality of graphics of the virtual desktops?
c. How are you ensuring low latency?
Do not compromise on this ever (even if you have your local backup system). Just check…
a. What kind of data backup they are offering and the duration?
b. Automated backup solutions available
Shifting to cloud desktop will free you up from the headaches of maintaining systems, related IT issues, blocked capital and operational costs that you can use elsewhere.
Choosing the right hosted desktop as a service provider, however, does need some prior homework so that you get the best of your money spent.