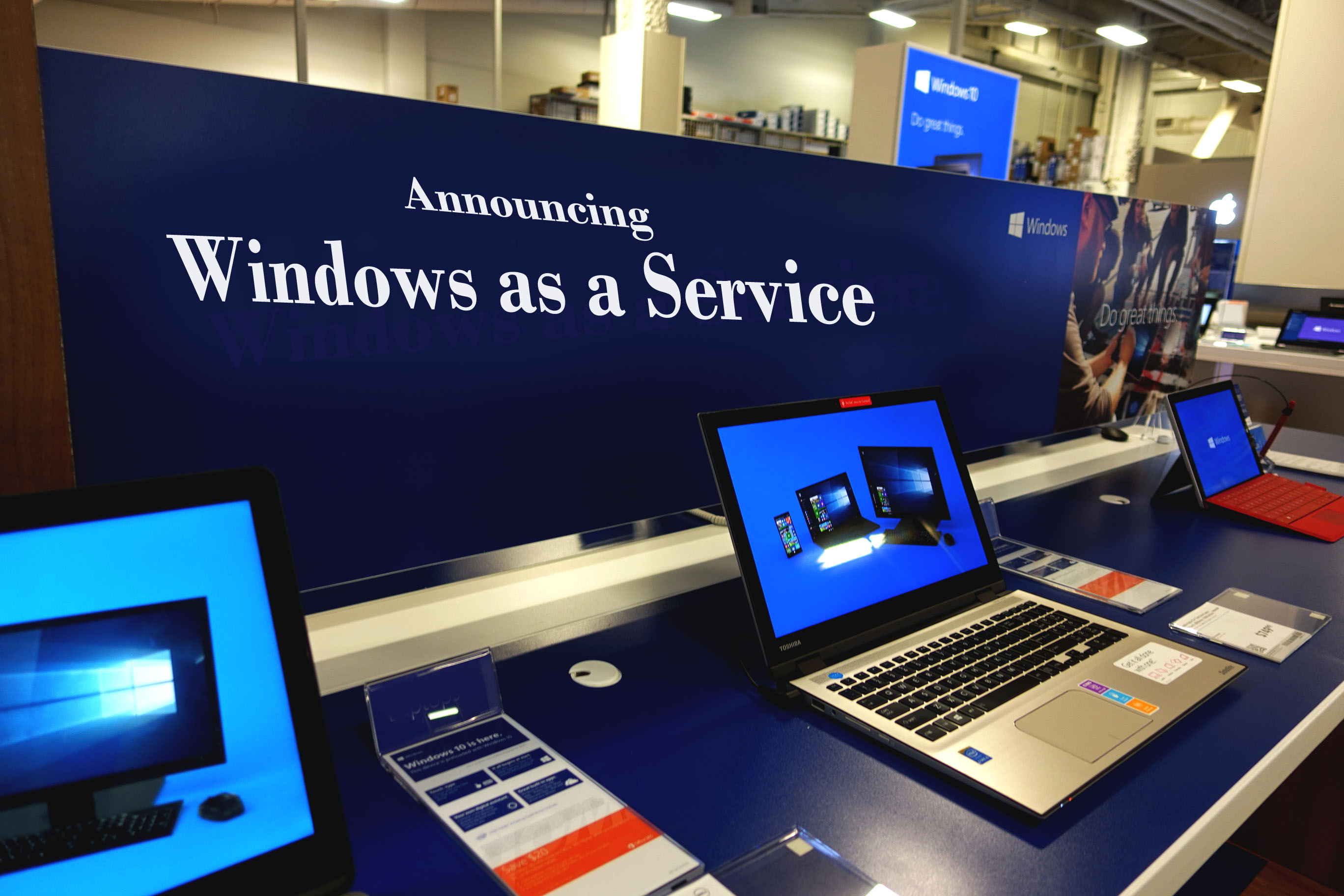 Microsoft has introduced a new process to build, deploy, and service Windows known as Windows as a service (WaaS). Here is an account on its purpose and unique features that make it popular over previous versions of Windows.
Focus
The main aim is to maximize customer experience for Windows (through desktop as a service) by simplifying its deployment and servicing. To reduce the IT hardware and resources needed to deploy and maintain Windows is another consideration Microsoft keeps in mind.
1. Easy Feature Upgrades
In the bygone days, before Windows 10, Microsoft kept releasing frequent new versions of Windows. The result was an additional burden of training, as the revisions/improvements were often heavy. Users waited long for improved/new features, especially on security-updates apart from the deployment and management challenges.
Earlier, Microsoft released technical previews on the new Windows versions once they were ready to hit the market.
Now with Windows 10, Microsoft will deliver the new/improved features to the Windows Insider (an open software testing program that enables the users to register for pre-release builds of the operating system that was previously accessible only to software developers). As a result, businesses can remain informed of what Microsoft is developing and immediately start testing.
Simultaneously, Microsoft will get feedback from businesses throughout the developmental process and make necessary adjustments immediately.
2. Smooth Deployment
Windows 10 deployment is much simpler than the previous Windows versions. Even migration from the earlier versions is smooth, thanks to the easy up-gradation features that auto-preserve everything including settings and data. Deployment of Windows 10 feature-updates is also equally uncomplicated.
3. Application Compatibility
There is no compatibility issue which was a concern previously for businesses undergoing up-gradation to newer versions of Windows. Windows 10 compatibility with Windows 7 or later version, is the main reason behind. The feedback received through Windows Insider Program and internal testing data will help in maintaining the same level of compatibility for each feature update.
4.Device Compatibility
Windows 10 is remarkably device compatible without the need for new hardware. Most functional hardware drivers in Windows 8.1, Windows 8, or Windows 7 will continue to function in Windows 10. Any smart device capable of running Windows 7 or later can run Windows 10.
5.Trouble-Free Servicing
Earlier Windows versions included several release types: major revisions, service packs, and monthly updates. Windows 10 has just two release types. Feature updates (adding new functionality) and Quality updates (for security).
To deliver the releases, Microsoft has introduced three servicing channels.
1)Windows Insider Program (to test and provide feedback on features that could be included in the next feature update).
2) The Semi-Annual Channel (provides new functionality with twice a year feature update releases).
3) Long Term Servicing Channel (only for specialized devices that do not run Office and get new feature releases every two or three years. Example ATMs, medical equipment).
The beauty is businesses can use the same management tools they used to manage updates and upgrades in previous versions of Windows.
For businesses, WaaS is a one-stop-service offering all attractive features and advantages even if all of these are not used across.
Consider us for any help with your Windows as a service solution. Talk to us 1-646-506-9354 any time 24/7 or come for a chat. Let us discuss!