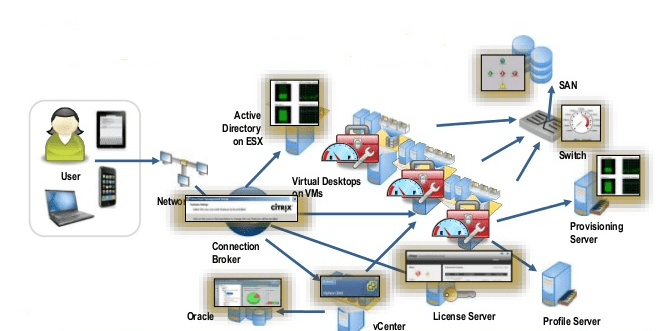 Managing a virtual desktop deployment is not always easy; the same could be the Windows 10 Virtual Desktop management. Setting up a Windows Virtual Desktop (WVD) tenant could be challenging if you are not comfortable with writing the PowerShell scripts. We will take you through the management tools available for Windows Virtual Desktop (without using PowerShell), where you can get them, and what you can do should you need deep management features.
A couple of Microsoft management tool options are available. However, they need to be deployed manually, and you will have to get an App service plan at an extra cost. As of now, this is the best choice you have.
Microsoft Developed Windows Virtual Desktop Management Tools
WVD Management UX
You can get it at GitHub. Once you deploy the ARM template, it will create the App Service Plan and 2 web apps apart from a temporary automation account that runs a one-time runbook for configuring the app for your tenant.
With this app you can a) Create a new host pool b) Add new hosts to the pool c) Block/allow new connections to a host d) Create App groups for Desktops or RemoteApp e) Assign permission to App groups.
These are basic management tasks but will help you a lot with routine WVD management. Particularly useful for organizations with substantial WVD deployments.
It has a GUI interface and completely bypasses the need to use PowerShell and removes the risk/human error elements.
You will need a separate deployment for each Azure Active Directory (AAD) tenant subscription.
Don't use old browser versions as there would be compatibility issues.
WVD Diagnostic Tool
Another recently released tool fully managed by Microsoft is the Diagnostics tool. The tool will help in managing the issues related to Connections broker, Gateway, Session Hosts, failing connections, and more. You can troubleshoot the issues now using your browser.
However, you will have to deploy another app for this with a new App Service Plan for which you will need to pay additional fees each month along with additional storage for the log files.
The tool will help you among others to a) review the performance details of virtual machine for a particular host b) see the sign-in details of users on a specific session host and c) send messages to the active users d) sign-out users of a session host e) collect session host information from log analytics workspace.
Vendor developed Virtual Desktop management tools to evaluate
It could be possible that you need advanced management like multi-environment configurations, database back ends, changing individual settings including various changes to multiple user profiles or manage thousands of profiles, etc.
In that case, you may need to consider third-party / more advanced user profile management tools.
Here is a rundown of a few vendor tools…
Liquidware
Liquidware has a pool of tools like Stratusphere UX, ProfileUnity and FlexApp to help in monitoring and managing deployments, improving user experience, managing application layering, and user environments, image management and more.
Login VSI
Its monitoring tool Login PI checks Windows application performance through metrics like legacy application usage, logon times. The monitoring happens continuously along with its API that integrates with other tools like Excel and Power BI.
PolicyPak
PolicyPak helps in various management tasks like assigning admin rights, configuring security, compliance settings, Windows 10 settings management like the Start Menu, taskbar, Group Policy Objects, and file associations.
ControlUp
ControlUp helps in monitoring user experience and resource consumption. Through UX metrics like application load time and logon duration, it sends alerts in case of concern. Constantly monitoring input delay, it can account for performance issues, automates actions for Windows Virtual Desktop management through user-created scripts.
Lakeside Software
The company's monitoring tool SysTrack monitors the activities of the virtual machines that host desktops, apps, and managed client-devices. Through its end-user-experience score, it determines when users face issues like latency or low disk space or the application crashes. It also offers a free assessment tool that helps in planning the migration to Windows Virtual Desktop.